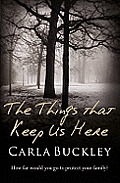 The book cover I have. Actually, I loved the cover; it emphasizes the gloom and darkness and the bald trees speak it all.
The newest cover of the book
The Things That Keep Us Here
. You can find a bigger version in the www.carlabuckley.com website. Or, even better, BUY YOUR OWN!! XD
Yay! Big! This the cover I loved the most and I wished I have this version. The picture is beautifully spoken and the quotes accompanies it very nicely. It spices the things up even before you leafed the pages! Sometimes, quotes like this work better rather than a description which is usually behind the book. But, that is my POV, anyway. Okay, enough talking, let me get reviewing.
"Truthfully, this book has all the genres you need to have. Suspense, thriller, non-fiction (though the only thing fictional are the characters, that does not stop you from reading it!), literature, romance and family problems. If there was such a genre, I'd add in
togetherness
.
Overall, it is scary. The fact that you're trapped in a house with an invisible lethal monster out on the loose isn't at all comforting. Especially when the power is turned off and you're on your own.
Anyway, the book starts off with Ann Brooks, an ordinary housewife, driving home from her father-in-law's funeral and at the end of the prologue, realized that her marriage has dissolved and lied askew among the word 'divorce'.
In this story, they are told that they are in Phase Four. After a few pages, Phase Five had started and schools and universities are shut down. Ann Brooks fought her way in the supermarket with Libby, her best friend. When the power turned off, they were forced to do what their ancestors did. Hand-wash clothes, hand-wash the dishes, eat with the candlelight, and the freezing cold. With the rationed foods they had and the disease out there, they have to work together, and keep together. For nothing is all safe out there, even the people they know, the people they love.
Ann Brooks faces several impossible decisions that will lead to life or death. Even opening the door to her best friend has become a dilemma to this normal housewife. Should she open the door and risk it all...?"
Well. Very exciting, don't you think?? This story is based on science and... I know, I know, for some, science is pretty boring compared to chic lit (which I must strongly disagree), but I assure you, I guarantee that this kind of science will make you drool for more, make you shiver in disgust and in fear. This is a page-turning book, a book that you will never put it down until you've finished it. (Unless your mother gets really angry about having to call you several times, you'll have to forcefully put the book down.) So you'll need time to read this book for it's a 400 page book. I finished it in three days, maybe one if I had the time, but I was quite busy. Anyway, I was really really sad when it was over. Not sad because of the ending, of course! Sad because the story was over. But I suppose a sequel will ruin it (But definitely not HP, Septimus Heap and other series I love), and besides the epilogue was a relieving finish.
But keep an eye out if Carla Buckley decides to write a book again.
Ten stars for this. Strongly recommended for those who adores science and family dilemmas.